ADDITIONAL SERVICES

First National Bank Minnesota is dedicated to providing our customers with the most convenient, innovative services in the banking industry today. In doing so, we never lose sight of putting our customers first - our standard since we opened our doors in 1857.
Applications and Forms
Welcome to the First National Bank Minnesota Application Center. We look forward to the opportunity to serve your financial needs.
It's easy to get started. Simply select and print the application you are interested in. Please note when printing an application, you may be required to install Adobe Acrobat Reader.
Once you have completed the necessary information, getting it to us is as easy as 1-2-3! Just select one of the following:
Fax the completed application to us:
(507) 931-3624 (St. Peter)
(507) 625-2010 (Mankato)
(507) 237-5481 (Gaylord)
(952) 873-2877 (Belle Plaine)
Mail the completed application to us:
226 Nassau Street, St. Peter, MN 56082
500 Long Street, Mankato, MN 56001
PO Box 418, Gaylord, MN 55334

201 W Main St., Belle Plaine, MN 56011

Bring the completed application to us at an address listed above. To speed up the application process, contact us prior to bringing in the application to set up an appointment with a Universal Banker or Lender.
Checking, Savings, Certificate of Deposit, & IRA Application Consumer Loan Application
Your business is important to us. When you are opening a new account, you are most likely also closing an account elsewhere. We have developed the "Easy Switch Program" to assist you in moving your accounts.
Complete our Easy Switch Program form.
ATMs
First National Bank Minnesota is part of the MoneyPass ATM network, so you can use any MoneyPass ATM surcharge-free.
Access thousands of ATMs nationwide
Withdraw cash instantly
View account balances in real time
Calculators
First National Bank Minnesota has a variety of calculators available powered by TimeValue including home financing, personal financing, investments, retirement and lease.
Credit Cards
We partner with ELAN Financial Services in offering a variety of credit card plans to qualifying applicants. Your options include Student Cards, Corporate Cards, and Personal Cards with a variety of Reward Options. Our universal bankers will be happy to assist you with your Credit Card needs and options.
If your card is lost or stolen, please call (800) 558-3424.
Debit / ATM Cards
An ATM Card allows you to access your money at ATMs (Automated Teller Machines) across the United States and abroad. You can access your cash when you need it – 24 hours a day!
The Check Card (commonly referred to as a debit card) has the same features as an ATM Card and more. It allows you to present your Check Card to make a purchase at any merchant that accepts debit cards instead of writing a check. Your transaction will be deducted from your checking account and will appear on your monthly statement. Use your Check Card to shop over the phone, online, or at your favorite store.
If your card is lost or stolen please call (800) 658-2353 during regular business hours or (800) 472-3272 after hours.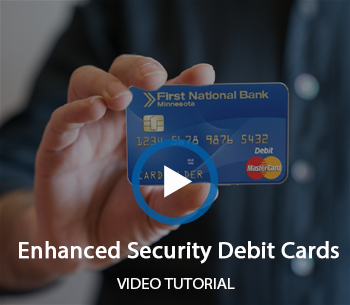 Know Your Credit
Review your credit report each year for accuracy.
Receive a free Credit Report: AnnualCreditReport.com
Notary Services
When you need an important document notarized—whether it's banking-related or not—we've got you covered. Stop in a First National Bank Minnesota location for help.
Order Checks

So you never run out of checks, First National Bank Minnesota makes it simple to reorder online, right here. You're also always welcome to order checks when you visit any of our branch locations.
Rates
Current deposit rates are available, for more information please contact one of our Universal Bankers today. Current loan rates are also available, please contact a member of our lending team today.
Safe Deposit Boxes
A safe deposit box is a place to centralize important documents and valuables. Identity verification, access rights according to the lease, along with one of two keys issued to the renter are required to gain entry to the safe deposit box.
First National Bank Minnesota has boxes available for lease in several sizes and the annual payments can be deducted automatically from your checking or savings account.
Common things stored in safe deposit boxes include:

Real Estate Abstracts
Insurance Policies
Automobile Leases/Titles
Loan Documents
Birth Certificates
Marriage License
Income Tax Records
Personal Valuables (Jewelry, Family Heirlooms, Coin Collections, Computer Back-up Tapes)
Passports

Stock Certificates
Household Inventories
Savings Bonds
Income Tax Records
Trust Documents
Wills
Credit Card Information
Insurance Policies
Property Deeds
Stop in at one of our locations today to select a safe deposit box that is right for you!
Telephone Banking

Call (888) 703-4362 to activate telephone banking services

Manage accounts through your touch-tone phone
Hear account balances
Transfer funds between accounts